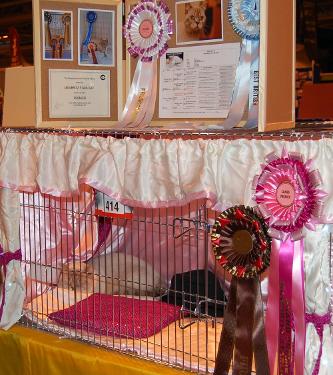 Great Day at the GCCF SUPREME CAT SHOW , November 2012 at NEC Birmingham
Premier MAWBRITZ STARLIGHT
was awarded her 3rd Grand Certificate
Making her the first Mawbritz GRAND PREMIER
Many thanks to Jo & Jason for showing her so well
TABBY CAT CLUB SHOW - 6th OCT 2012
Debut for MAWBRITZ JUBILEE ROSE
She had a great day - a RED card day
1st in her Open, Best Of Breed and 1st in all 3 side classes
Many thanks to Christine of Malmo British Shorthairs for showing her x
TEESSIDE CC SHOW - 25th AUG 2012
Another successful day out...
Mawbritz By Design (Edward) was awarded
'BEST OF VARIETY BRITISH KITTEN'
It was just his second outing but he seems to enjoy himself
He was placed 1st in his open, was awarded the Best of Breed and was placed 1st in two of his side classes & 2nd in his other.
Many thanks to the judges Mrs S Lorton-Hobbs, Mrs D Brown, Mr G Gow & Mrs C Kaye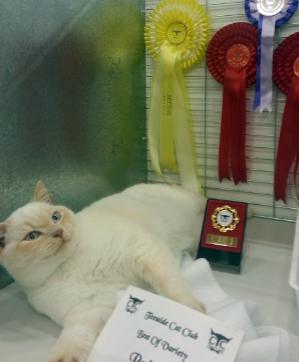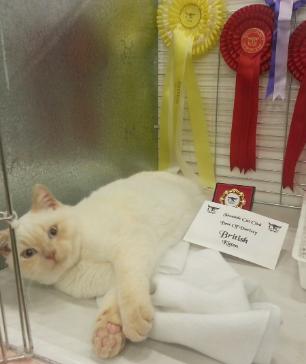 Mawbritz Haute Couture
litter sister to Edward
'Cutie' also had a good day.
She was 1st in her open
& in her sides she was 1st, 2nd & 4th
Well done 'Cutie' x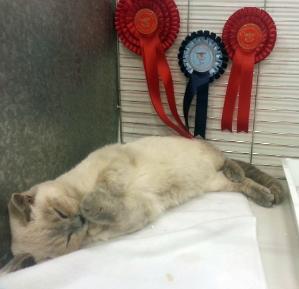 HUMBERSIDE CC & LINCOLNSHIRE CC JOINT SHOW - 14th JULY 2012

Busy but enjoyable day a my favorite joint show, the Mawbritz gang where out in force!
MAWBRITZ PEARLS A SINGER was at her second ever show and was awarded
'Best of Variety British Exhibit'
at Lincolnshire CC Show , many thanks to the judges
Best British Adult - Mrs L Walpole
Best of Variety British - Mrs S Lorton-Hobbs
She gained her first CC and was awarded the BOB - many thanks to the judge Mrs B Prowse

She was also well placed in her side classes - 1st /14, 1st /9, 2nd / 6 twice!

Fab results - very proud of my young girl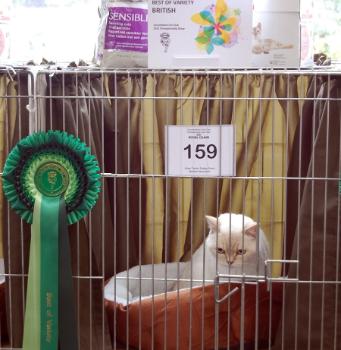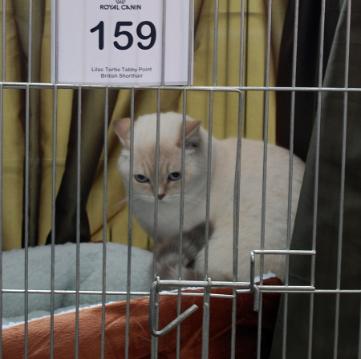 The rest of the crew did great too.... many thanks to the judges
CH Mawbritz Lamborghini - Reserve Grand Champion - Mrs L Walpole
PR Mawbritz Starlight - won a Grand Premier & a Reserve Grand - Mrs M Rodger & Mrs B Prowse
Mawbritz Haute Couture - 1st & Best of Breed - Mr S McConnell
Mawbritz By Design - 1st & Best of Breed -

Mrs R Fisher

Mawbritz Wilberforce - 1st & Best of Breed - Mrs H Marriott-Power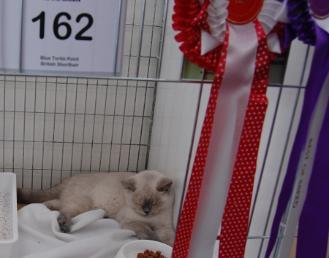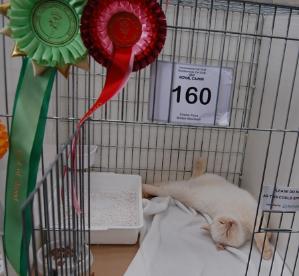 BEDFORD CC & CAMBRIDGESHIRE CC JOINT SHOW - 28th APRIL 2012
It was our first time of entering these shows,
it was well worth the early start and long drive!
We took 3 girls, none of which had been shown before.
We had a GREAT day ...
PREMIER Mawbritz Starlight

gained 'Best of Breed' at both shows
& was judged
'Best of Variety' British Neuter!!!!!
for Cambridgeshire CC
Hugh thanks to Jo & Jason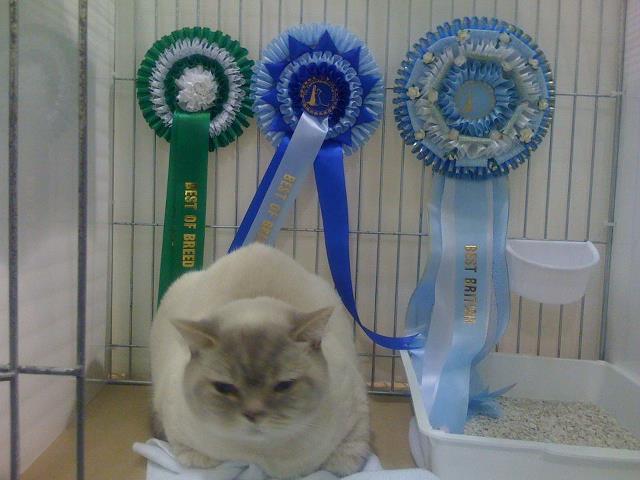 Our darling Mawbritz Natasha
was placed 1st and awarded CC
in Cambridgeshire CC show.
Many thanks to her judge - Mrs A Ivinson
Mawbritz Pearls a Singer,
our young lilac tortie tabby colourpoint girl had a very good day.
1st and BOB in both shows !!
Placed 1st in 3 side classes & 2nd in the other side class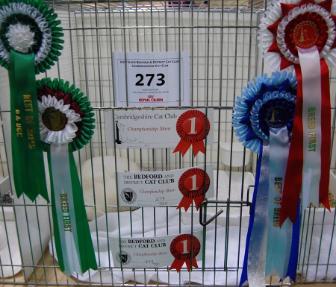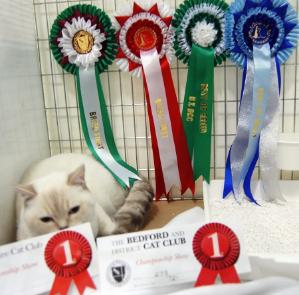 Here is Pearl's report from Bedford Show, many thanks to her judge Mr S Leppard
AC British SH Colourpointed Kitten
1st & BOB Berry's MawBritz Pearls a Singer 40 20 26/8/11 Lilac Tortie Tabby. Very attractive lady , lovely type, nice full round face, excellent breadth to skull, ears fitting nicely into rounded contours of head, nice full cheeks, correct thick short neck. Large round eyes, set well apart of pale blue, light spectacles around eyes. Short broad nose, pleasing pink nose leather, firm chin, good level bite. Very soft light Tabby to ears, very faint thumbprints with a hint of light cream, also faint tabby markings to face, very light M frown, with a very soft light cream on the face, also on the legs and on a medium thick tail, with light rings, thicker at base and rounded to tip, which was solid. Just short of being an adult this girl was beautifully balanced with a nice cobby feel to her, short level back, with rounding evident to the shoulders and rump, good substance to this girl, short thick legs, large rounded paws, pink pads. Excellent texture to the coat that was short dense with a lovely crisp feel to it, an off white which had pleasing light tortie giving a very pleasing contrast to the points. Lovely lady who sparkled and was shown in super condition, her temperament was superb.
Lastly but not least...here is Emzys Becs,
my daughters 5 month old Chocolate, tortie & white kitten.
She too had a successful first show being placed 1st
and awarded Best in Colour at both shows.
She was also gained 2x 1st & 2x 2nd in her side classes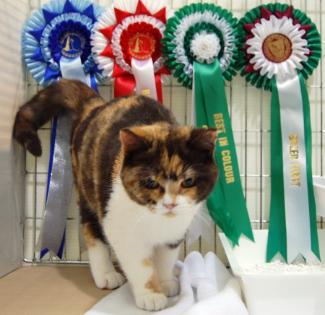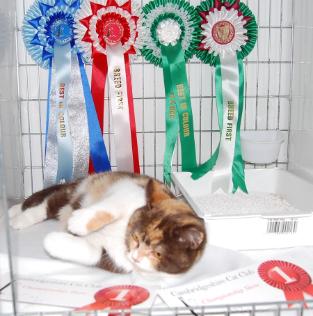 LANCS CC SHOW - 10th MARCH 2012
We had another successful day out ...
CHAMPION Mawbritz Lamborghini was award his first Grand Certificate.
This was the first time entered in this class so I wasn't expecting anything ....
very proud of my boy!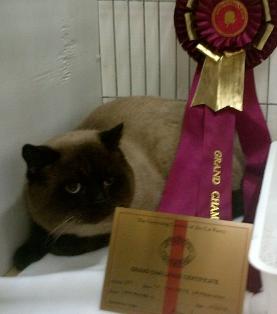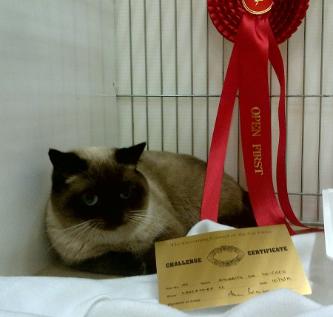 Mawbritz Oh so-coco attended her very first show, aged nearly 11 months.
She got placed 1st and awarded her first CC!

A good day for the Seal Colourpoints!